Chemique Adhesives kicks off 2019 with a new structural sealant
Member News
Never willing to settle for mediocrity in the space of solvent-free adhesives and sealants, Chemique Adhesives has developed a new single-component, fast curing polyurethane sealing and bonding compound ideal for a variety of industries including: construction, transportation, commercial manufacturing, modular construction and other areas where movement and vibration are of major concern.

The new fast-curing high modulus polyurethane sealant, Bondseal 1128, builds on the successes of its predecessors by utilising a new advanced formulation improving the rheology and significantly lowering the isocyanate content for ease of application, excellent slump resistance, and increased product safety. This new industrial sealant can be easily applied using a standard cartridge caulking gun making it ideal for manufacturing applications of various size and scope.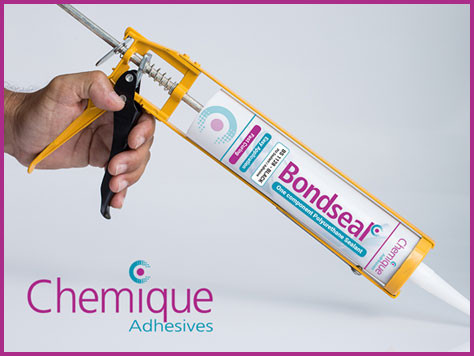 "We have been working on developing a sealant that was not only easier to apply, but also safer to the end user and retained the strong sealing and bonding properties necessary for today's demanding applications." said Stuart Francis, Managing Director of Chemique Adhesives. "The final product is a very cost effective single component polyurethane sealant that both seals and bonds a wide variety of materials including FRP, GRP, metal, plastics and wood."
Bondseal 1128 polyurethane sealants expand a technical range of industrial adhesives and sealants designed with structural bonding properties and high bond strength in mind. The Bondseal range of products can be used in place of mechanical fixers, offering superior performance when bonding metal and thermoplastic substrates. This adhesive and sealant range for manufacturing consist of clear polyurethane adhesives and potting compounds, flammable and non-flammable aerosols, in addition to a new generation of polyurethanes and methacrylate adhesives and sealants, which are viable alternatives to more hazardous products traditionally used.
Bondseal 1128 is available in both black and white colour configurations and is dispensed through standard 300ml cartridges with a shelf life of up to 12 months in unopened containers.